NPD press release on Grosbeak oil and gas discovery
Published

29/10/2018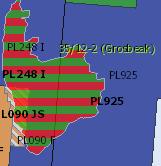 Results from the Grosbeak appraisal drilling (PL248I), were today published on the NPD website.
The Grosbeak discovery extends into our PL925, located immediately to the east of PL248I. Concedo holds a 10% share of the licence PL925, while the operator Wellesley Petroleum AS holds the remaining 90%. Wellesley Petroleum AS is also operator of the PL248I licence.
For NPD's press release on Grosbeak, press here.